Tactical backpacks are regularly used for a wide variety of activities, including travel, hiking, hunting, students, emergency personnel, military, police force, adventurer, and many others. Their rapid rise in popularity is, in large part, attributed to their size, appearance, practicality, and unique features.
Examples of these features include added compartments, MOLLE webbing, and hydration bladders. Overall, the durability, accessibility, and comfort of tactical backpacks are just a few of the things that set them apart from more traditional packs.
In this article, we will review the 10 Best Tactical Backpacks of 2022. Be sure to also read through our Buyer's Guide and Frequently Asked Questions sections to learn about features and specifications to consider when selecting the right tactical backpack for your needs. Let's get started!
Best Tactical Backpacks

Mystery Ranch 3 Day Assault Pack

Weight: 4.6 lb
Volume: 1800 cu-ins
Dimensions: 22"x13.5"x11"
Frame System: Futura Frame
Harnessing Style: Limited

Our Top Pick

VIEW LATEST PRICE →

GORUCK GR1

Laptop Protection: Up to 16"
External Slant Pocket: 21L: 11"W x 10"H / 26L: 11.5"W x 12.5"H
Internal Elastic Pocket: 21L: 11"W x 10"H / 26L: 11.5"W x 11"H
Built to last
500D CORDURA fabric and YKK Zippers

VIEW LATEST PRICE →

5.11 Tactical Rush 72 Backpack

Versatile
Designed to be a full-featured 72-hour tactical bag
Large stuff-it pocket
Excellent internal organizational pockets
Available in 7 different colors

VIEW LATEST PRICE →

Roaring Fire Tactical Backpack

Well built
45L capacity
Has a lot of space for gear
A spot for a hydration bladder
Has a great molle webbing system

BUDGET-FRIENDLY

VIEW LATEST PRICE →

BOW-TAC Military Tactical Backpack

Double-stitched high density fabric
Heavy duty zippers
Durable
Water-resistant
Ventilated mesh back pads and shoulder straps

VIEW LATEST PRICE →

3V Gear Outlaw Sling Pack

Tactical shoulder bag
Great for Every Day Carrying
Innovative sling design
Unique
3 storage compartments with organizers

VIEW LATEST PRICE →

Condor 3 Day Assault Pack

Heavy-duty pack
7 different compartments
Plenty of storage capacity
Built for durability and comfort
Can fit most any body type

VIEW LATEST PRICE →

5.11 Tactical Rush 24 Backpack

Full sized day pack
Can fit everything you need for a 24 hour trip
Durable
Waterproof
Made out of the best material

BEST SMALL TACTICAL BACKPACK

VIEW LATEST PRICE →

Red Rock Large Assault Pack

4 expanding compartments
Can store up to 35 liters of storage
Back panel can also hold up to a 2.5 L hydration bladder
Makes a great bug-out bag
Adjustable

VIEW LATEST PRICE →

5.11 Rush Moab 10

Single strap sling pack
Allows easy front / back accessibility
Plenty of storage space
Designed to be quick "grab and go" pack
Small to mid-sized range bag

VIEW LATEST PRICE →
Click here for the lowest price
The Mystery Ranch 3 Day Assault Pack is designed to be rugged, versatile, lightweight and have a high level of mobility.
Designed for the US military, this pack is American made and built to last with 500D CORDURA fabric and YKK Zippers so you'll never have to worry about breaking a zipper or tearing the fabric if you're in a pinch.
The 3 Day Assault Pack features an innovative 3-Zip design that allows you to quickly access all of your gear and has side MOLLE webbing which provides expansion options to increase carrying capacity.
At 30L this pack is the perfect size for all your essential bug out gear with plenty of straps and daisy chains to attach any bulkier gear. The Assault pack has compartments for and can accommodate up to 3 hydration bladders with still plenty of room for other gear items.
Rest assured when the SHTF, you can rely on this pack to stand up to anything that comes your way.
This is the BEST Tactical Backpack on the market today.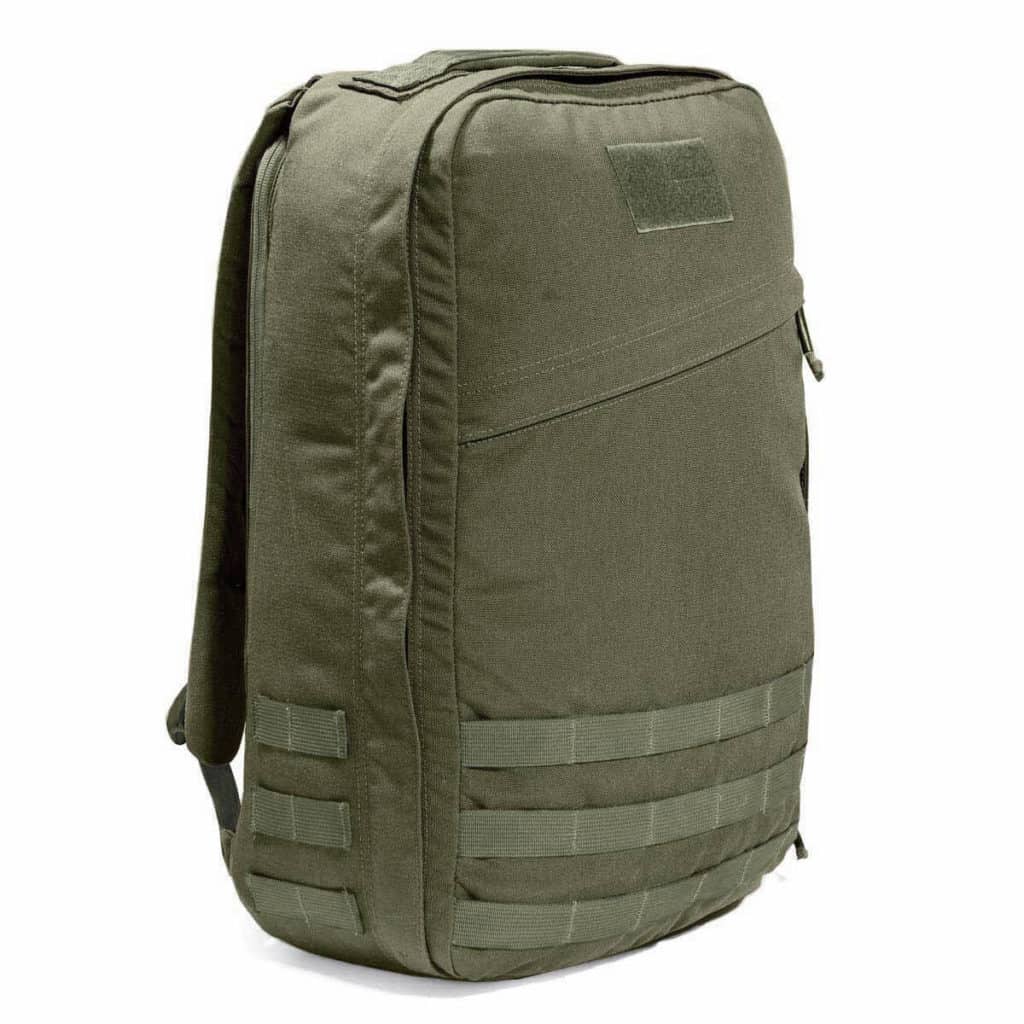 The GORUCK GR1 Tactical Backpack is one of the most rugged, versatile, and feature loaded backpacks on the market today.
The GR1 is a US-made backpack made to Armed Forces specs but with a civilian-friendly design. The pack is a favorite among travelers, military personnel, law enforcement, hikers, emergency preppers, students, and of course GORUCK Challenge participants. This pack was specifically built for the Special Forces and has been used in Baghdad and New York City.
The Gr1 is loaded with features that really set this pack apart from some of the others. GORUCK takes pride in its workmanship and these packs are made to withstand even the most severe circumstances.
On the outside, the pack might look plain or simple when compared to other tactical backpacks, but on the inside, you can see that this is not a simple backpack.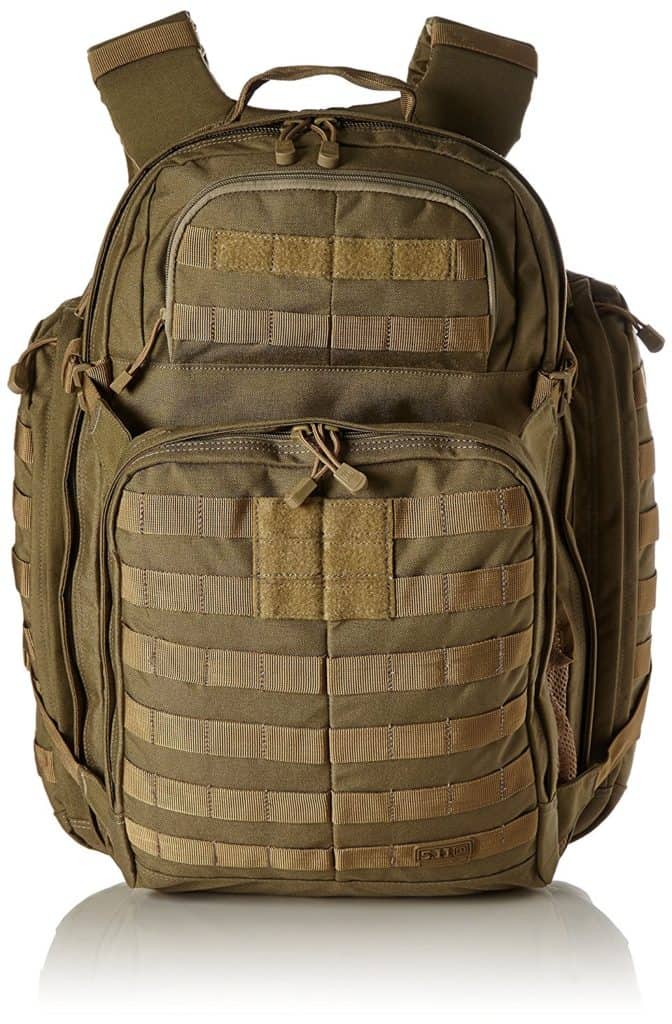 Click Here for the Lowest Price
The 5.11 Tactical Rush 72 is a versatile, rugged backpack that is designed to be a full-featured 72-hour tactical bag.
Among the Rush line, which is their flagship backpack line, the 72 ranks as one of our favorites.
We also liked the 5.11 Tactical Rush 24. They both are very popular and have created quite the buzz with their fans. 
With a large stuff-it pocket and excellent internal organizational pockets, it makes stowing your great easy. It also has strategic pockets for your different gear and helps keep it all organized. 
The pack is available in 7 different colors depending on your preference.
 Although the primary usage of tactical backpacks comes from law enforcement, medical personnel & military personnel, they are becoming more popular among the civilian world. According to outdoor site Gear Lobo, the need for a quality tactical backpack is rising among everybody from preppers to hikers.
4. Roaring Fire Tactical Backpack
Roaring Fire Tactical Backpack is a well built 3 day bug out bag. This comes in at a good price for such a great army assault pack.
The tactical backpack is made from 900D oxford waterproof fabric with ventilated mesh padding for the back and shoulder straps.
With 45L capacity the pack has a lot of space for gear including a spot for a hydration bladder. The pack has a great molle webbing system so that adding accessories is easy and convenient.
This pack is idea for many different uses including, gym bag, bug out bag, hiking pack, hydration backpack,  range bag, outdoor bag, and other uses.
We recommend this bag as a great budget option.
5. BOW-TAC Military Tactical Backpack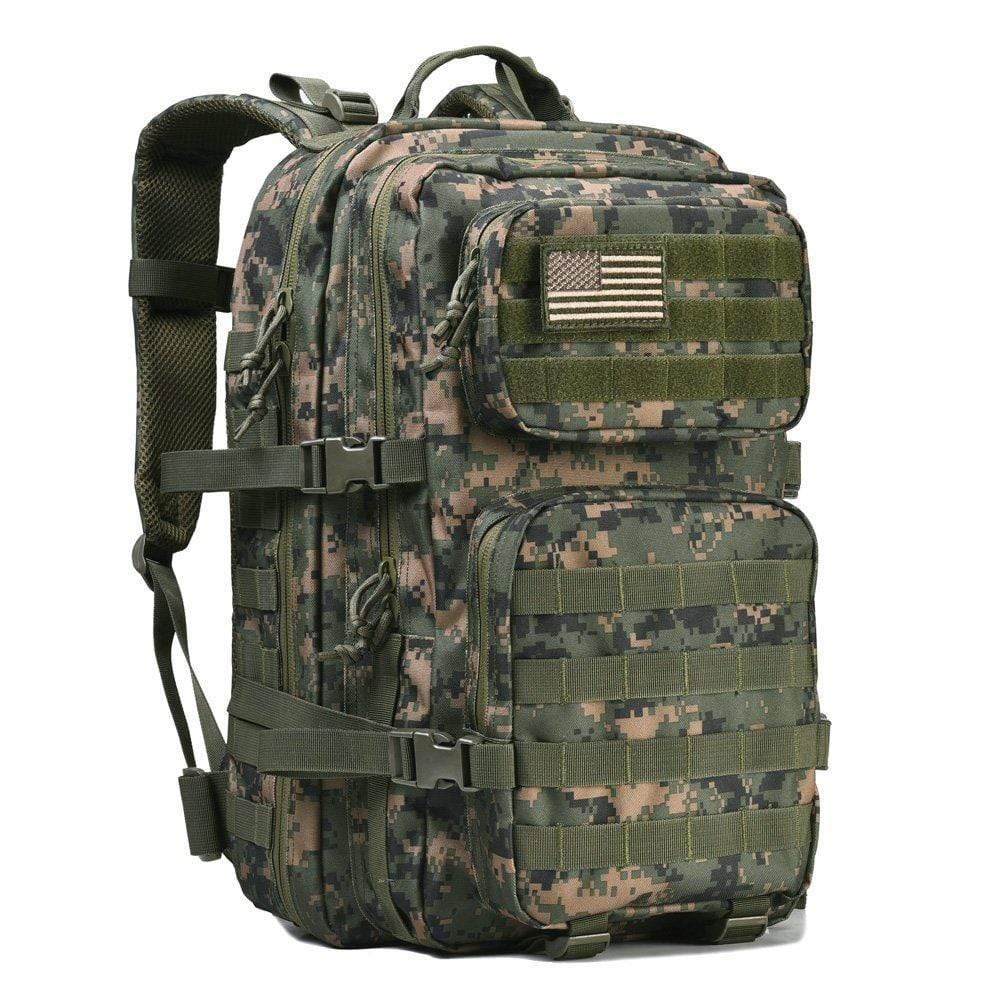 When you need a MOLLE tactical assault backpack that can carry all the supplies you need to survive and you want to make sure it won't fail on you, look no further than the BOW-TAC Military Tactical Backpack.
Made from the finest double-stitched high density fabric and heavy duty zippers, this military hiking bag is both durable and water-resistant to get you through the toughest conditions, while ventilated mesh back pads and shoulder straps make sure you can do it in comfort.
Laced with MOLLE webbing for maximum storage versatility, this bag is an excellent option for all your bug out bag, tactical, hunting and camping needs.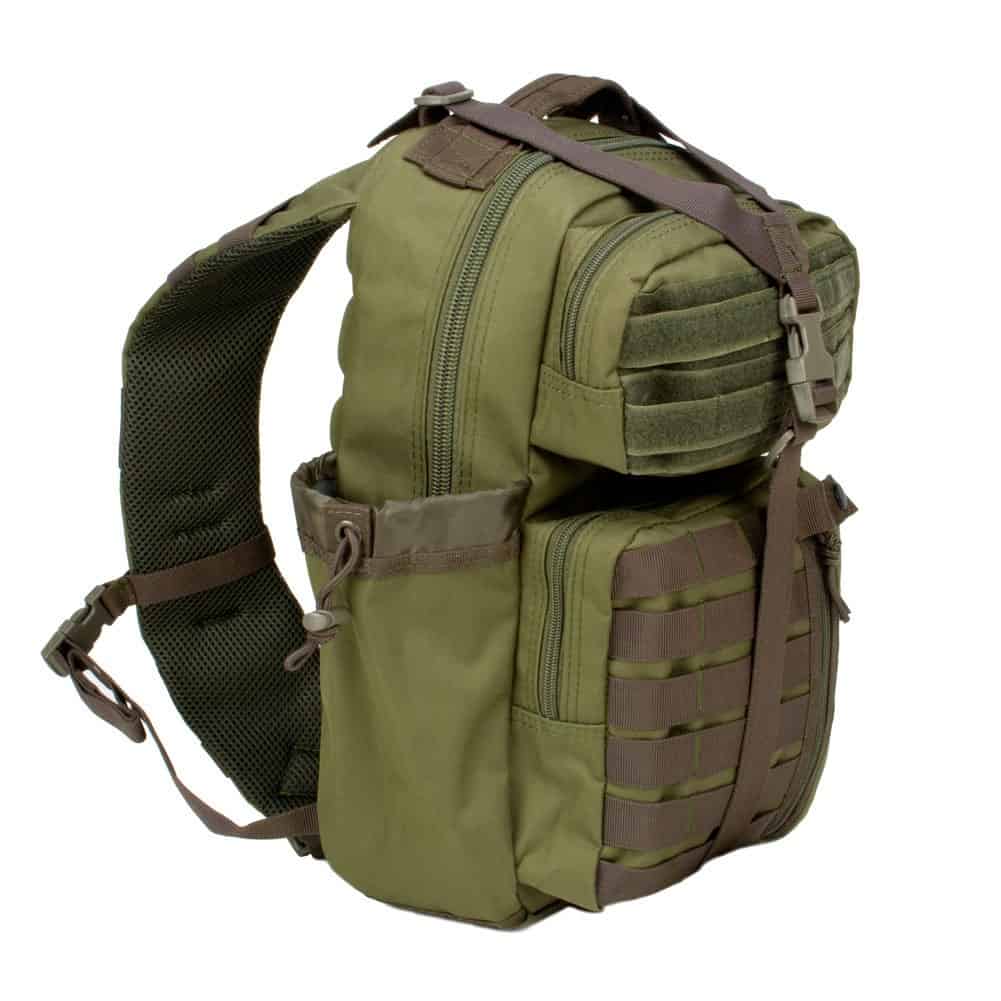 The 3v Gear Outlaw Sling is a tactical shoulder bag that is great for Every Day Carrying(EDC), with an innovative sling design that allows you to access your gear without the hassle of removing your pack.
The 3V Outlaw Gear Sling Pack makes an excellent EDC or bug out bag. It is unique in that it is a sling style pack.
The bag has 3 storage compartments with organizers, is compatible with hydration packs, and is made of durable 600D PVC nylon.
The brand 3V Gear was created with the goal of providing quality gear at an affordable price. Their bags are specially designed for military, police, survival, and tactical use.
They are only available to be purchased online, so the company is proud to offer a risk-free, 30-day unconditional guarantee, backed up by a lifetime warranty if customers are unhappy.
The Condor 3 day assault pack is a heavy-duty pack with 7 different compartments that can easily organize all the gear you could possibly want to carry.
The Condor 3 Day Assault Pack serves as a great bug out bag.
It is a heavy duty bag with plenty of storage capacity, these features make it a standout pack among other competing packs at a similar price point.
This bag is also built for durability and comfort and can fit most any body type. Since the pack is so large and can fit so much gear, they have included some important features to aid in your comfort when carrying a heavy load.
The Condor Outdoor Inc brand is a leader in the tactical gear space, specializing in packs and other gear made for intense situations. Their 20 plus years of experience in the space shows in the design and functionality of their 3 Day Assault Pack.
The 5.11 Tactical Rush 24 is the most popular tactical backpack that 5.11 offers. Its main purpose is to be a full sized day pack. You can fit everything you need for a 24 hour trip including food, water, and accessories in this pack.
The rush 24 is basically a smaller version of the 5.11 Tactical Rush 72. The Tactical Rush has been around for a while and has proven to be one of the best packs in the market right now.
The durable and waterproof Rush 24 is a roomy full-size daypack that can be quickly turned into longer duration pack as needed. The pack is made out of the best material for the job. The main internal compartment is flexible and has dividers, the pack also features MOLLE webbing designed to help customize your pack.
The Red Rock Large Assault Pack is just what it sounds like- it is a larger version of their popular assault pack.
They have created an even better version of the original that has 4 expanding compartments for all your gear, without becoming bulky or overbearing. The 4 compartments can store up to 35 liters of storage, with zippers and organizers in the three larger compartments.
The back panel can also hold up to a 2.5 L hydration bladder (not included).
This pack makes a great bug-out bag or 3-day pack. This pack is very rugged and spacious making it ideal for hiking trips, tactical missions, or for emergency personnel.
The pack is easily adjustable for added comfort and a secure fit, with contoured mesh padded shoulder straps, waist and sternum straps for even weight distribution. The pack also has MOLLE webbing straps to aid in your individual needs and customization.
The 5.11 RUSH Moab 10 pack is a single strap sling pack that allows easy front /back accessibility with plenty of storage space.
This RUSH series is designed to be quick "grab and go" pack when you need it most.
MOAB is an acronym for Mobile Operation Attachment Bag,  and all of the MOAB packs are made with the ability to connect and carry them together if needed.
This pack is more of a small to mid-sized range bag, the idea being that it can be strapped onto your larger pack and in a scenario when you need to get out quick for only a 1-3 day use, you can grab this pack and go.
The single strap design is becoming more popular for tactical backpacks. The idea is that it's quicker to grab the pack and sling it over your shoulder and go than it is to put on and adjust a two strap pack.
A two strap pack is obviously the more traditional style, but if you're looking for something easy to grab and go and aren't as concerned about the ability to carry large amounts of weight for long periods of time, a sling pack is an innovative new option.
–
Buyer's Guide
When choosing the right tactical backpack for you, there are many things to consider. In this Buyer's Guide, we're going to focus on the characteristics that play the largest role in separating good tactical backpacks from great ones. Those factors include price, MOLLE compatibility, size, durability, and the ability to customize the pack's organization system.
Price
Price is a huge factor as these packs can range from $30-$300. You need to decide what your main purpose for the pack is and how often you will use it. In general, the price of a given pack will go up if the manufacturer used higher quality materials and added more features.
The more basic models will function well as daypacks, but won't have much use past that. As with many survival and outdoor recreation items, you're largely going to get what you pay for. If you want a tactical backpack that's going to last, it's worth spending a bit more.
MOLLE Compatibility
MOLLE webbing is a feature that has the ability to add accessories to your pack making it able to carry more gear. This webbing allows you to add straps, compartments, and other customized features to your tactical backpack. The military elite relies heavily on MOLLE webbing because each mission can call for a slightly different setup.
The major advantage of a tactical backpack with MOLLE webbing is that it will be able to mold to fit your needs. If you're an outdoor enthusiast that might head out on an elk hunt one weekend and a snowmobile trip the next, it pays to have a do-it-all style pack that can be customized for each activity you enjoy.
A good tactical backpack should give you the ability to organize and find your gear in a moments notice. Some packs have more organizational pockets than others. Some of these pockets include shade protectors or hydration bladder compartments. Make sure you find a pack that offers the number of pockets, customizability, and specific added features that you'll find most useful.
Compression
The main purpose of compression straps on a tactical backpack is to help compact your gear and pack once it is completely packed. Compression straps also help to compress the gear into your pack into a denser package. In doing so, you'll be able to center the weight on your back and body more easily. If you're primarily going to be using your tactical backpack for long-distance trekking, being able to compress gear and center the pack weight on your back will go a long way towards reducing fatigue and allowing you to cover more miles every day.
Size
Tactical backpacks can range in size from a daypack to a 3-day large pack. The packs that are primarily made for 72-hour use generally top out in the range of 35 to 40 liters. However, there are tactical backpacks that are much larger. These larger packs allow you to stay out for a week or longer without having to resupply.
If you like to hunt very reclusive game during specific seasons or enjoy long-distance trekking, you might want a pack that can carry close to 55 to 65 liters. Your final choice on pack size will ultimately depend on whether you're looking for a daypack, one for weekend getaways, or one for extended trips in the wilderness.  When all is said and done, you just want to make sure you can fit all of your necessary gear like a flashlight, first aid kit, or survival kit in your pack for your adventure.
Durability
Not all packs are made equal as far as durability goes. Some are made with high-quality materials and construction. Denier count (1) is one of the ways to compare packs to one another in terms of the quality of the fabric used in their construction. In general, a higher denier count means a more durable pack. However, the type of material also plays a role.
Certain materials with a lower denier count can actually be more resistant to scratches and tears than a different material with a higher denier count. So, as you can see, it pays to research fabric strength and quality more closely before deciding on a tactical backpack. As a general rule, you should look for a tactical backpack with a denier count of at least 500 to 1200. Cordura nylon fabric is a well-regarded fabric that you should keep an eye out for as well. X-Pac (or XV) fabric is also a good option as well, but you should generally avoid packs made from just polyester or Kodra (even though it sounds cool).
The pack's stitching and zippers also play a large role in its overall durability. YKK zippers are generally considered to be high-quality (2) and are increasingly used by many designers of tactical and outdoor recreation gear. Other zipper brands to look for include TiZip, ITW Nexus, and AustriAlpin.
When it comes to stitching, experiments have shown that nylon thread is stronger than polyester (3). Similar tests have shown that straight stitching is actually stronger than stitching in a zigzag pattern. This is because straight stitching spreads force along a line, whereas zigzag stitching concentrates force at the points of the zigs and the zags.
Paying attention to stitching is important because the seams of a tactical backpack are typically its weakest points. A company that has taken the time to reinforce the stitching of their backpacks is one that can be trusted over those that hardly mention how they've stitched the pack together in their product description.
Comfort
In a backpack that you might be wearing for days at a time, comfort should also come into play. Some of the features that help to improve the comfort of a tactical backpack include the quality of the suspension system, padding on the shoulder straps and hip belt, and the breathability of the back panel. These features will largely determine how the pack sits on your body, how it feels on your shoulder and hips, and how effectively it can wick away moisture when you're really putting it to use.
Frequently Asked Questions
What are tactical backpacks for?
Tactical backpacks are frequently entrusted with all the gear that soldiers may need on a mission. That includes many items that typically don't even enter civilian minds when we prep for our outdoor adventures. If you're still unfamiliar with a few of the terms used to describe the features of tactical backpacks, we hope we're able to answer your questions in this section.
What Kind of Backpack Does the Military Use?
The military uses a variety of different tactical backpacks depending on the mission circumstances.
What is a MOLLE backpack?
A MOLLE (usually pronounced "Molly") backpack is a pack that features a webbing system allowing accessories to be added. Most tactical backpacks run a MOLLE system on their packs.
What is a great budget-friendly tactical backpack?
A lot of people don't want to pay hundreds of dollars for a tactical backpack but they want the features and versatility that a tactical backpack has to offer. Check out the Roaring Fire Tactical Backpack.
What is a rucksack? 
A Rucksack is a word used interchangeably with 'backpack'. Typically a rucksack will only have the main compartment where a backpack will have many different pockets. Essentially a rucksack is the same as a backpack.
What is the best small tactical backpack? 
Some people want a tactical backpack but don't need a ton of space. The best small tactical backpack that we recommend is the 5.11 Tactical Rush 24 backpack. This is a great daypack but has the capacity to hold everything you need.
What is the best tactical sling backpack?
Sling backpacks are becoming popular due to the simplicity and minimalist design. They fit snug to the user allowing for agile movements. The best one that we recommend is the Hazard 4 Evac Series Plan-B Sling.
Summary
Whether you're into hunting, trekking, alpine mountaineering, or just casual hiking, there are many situations that call for a proper tactical backpack. You'll find that your ability to customize the pack to your needs to be one of their best features. Overall, we hope you've enjoyed this review of the best tactical backpacks of 2019 and we wish you the best of luck selecting the right pack for your upcoming adventures!