Bug out bags are increasing in popularity as the risk of an emergency or natural disaster becomes more likely. Since the risk of a hurricane, tornado, terrorist attack, flood, wildfire, financial crisis, or war is increasingly on the rise, so should your level of preparedness.
When the crap hits the fan, you want a backpack that is already packed with essential gear to help you and your family survive for at least 72 hours. That is what a bug out back is for. Not sure what you should pack in a bug out bag? Not a problem, check out our Bug Out Bag Checklist.
We have reviewed and selected the best bug out bags on the market today. The time to start preparing is now.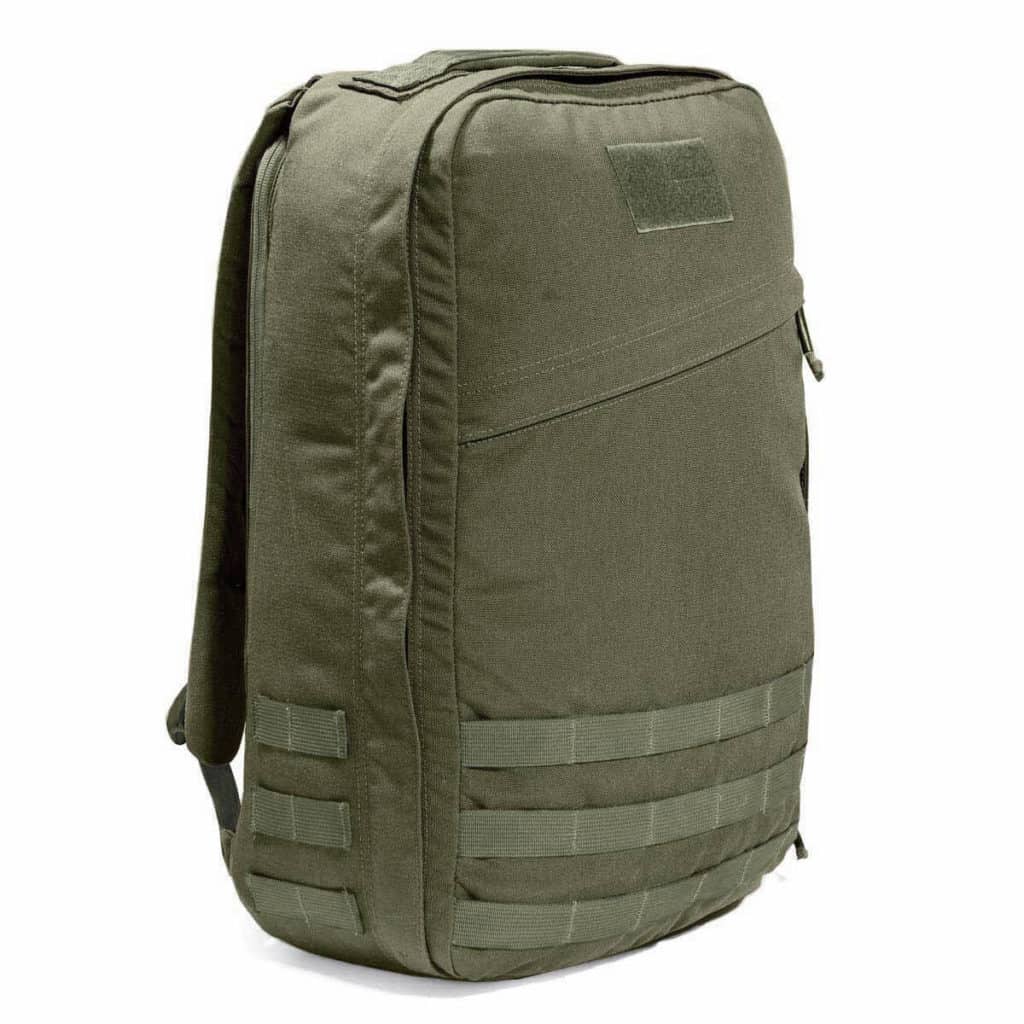 Click here for the lowest price!
The GORUCK GR1 Tactical Backpack is one of the most rugged, versatile, and feature loaded backpacks on the market today.
The GR1 is a USA made backpack made to Armed Forces specs but with a civilian friendly design. The pack is a favorite among travelers, military personnel, law enforcement, hikers, emergency preppers, students, and of course GORUCK Challenge participants. This pack was specifically built for the Special Forces and has been used in Baghdad and New York City.(2)
The Gr1 is loaded with features that really set this pack apart from some of the others. GORUCK takes pride in its workmanship and these packs are made to withstand even the most severe circumstances.
On the outside the pack might look plain or simple when compared to other tactical backpacks, but on the inside you can see that this is not a simple backpack.
 Click here for the lowest price on Amazon
The 5.11 Tactical Rush 72 is a versatile, rugged backpack that is designed to be a full-featured 72 hour tactical bag.
Among the Rush line, which is their flagship backpack line, the 72 ranks as one of our favorites.
We also liked the 5.11 Tactical Rush 24. They both are very popular and have created quite the buzz with their fans. 
With a large stuff-it pocket and excellent internal organizational pockets it makes stowing your great easy. It also has strategic pockets for your different gear and helps keep it all organized. 
The pack is available in 7 different colors depending of your preference.
 Click here for the lowest price
The Mystery Ranch 3 Day Assault Pack is designed to be rugged, versatile, lightweight and have a high level of mobility.
The 3 day assault pack features an innovative Y-shaped design that allows for quick and convenient access to all of your gear.
The pack is designed with rows of MOLLE webbing for attaching accessories easily.
Mystery Ranch added compression straps on the side to help make the pack less bulky. The Assault pack has compartments for and can accommodate up to 3 hydration bladders with still plenty of room for other gear items.
Mystery Ranch says that this pack is designed to be the last word in assault packs.
Click here for the lowest price on Amazon
The Condor 3 day assault pack is a heavy duty pack with 7 different compartments that can easily organize all the gear you could possibly want to carry.
The Condor 3 Day Assault Pack serves as a great bug out bag.
It is a heavy duty bag with plenty of storage capacity, these features make it a standout pack among other competing packs at a similar price point.
This bag is also built for durability and comfort, and can fit most any body type. Since the pack is so large and can fit so much gear, they have included some important features to aid in your comfort when carrying a heavy load.
5. Eberlestock Skycrane II
 Click here for the lowest price on Amazon
The Eberlestock Skycrane 2 pack is a heavy duty incredible pack. The unique design allows it to be modified to fit your specific situation. The pack has incredible amounts of space with the capacity being up to 8475 cubic inches. The Skycrane 2 also has a variety of accessories available including a weapon carrier and a spike camp duffel.
One thing about Eberlestock packs is that they are built with high quality and they are tough. The packs are expensive but you won't need to buy another pack again. Made with top-notch materials in the United States. Users have given it fantastic reviews and we agree, this is a high quality pack that can be used to carry a small load or a huge load. The pack is very versatile which makes it an attractive choice for a bug out bag.
6. Maxpedition Vulture-II Backpack
 Click here for the lowest price on Amazon
The Maxpedition Vulture II Backpack is a well built, large backpack, that is designed to carry quite a bit of gear.
This pack has the carrying capacity of up to 2100 cubic inches(34 liters). It has 3 large compartments for optimal organization. Even though this bag is quite large, Maxpedition made sure the pack was comfortable to wear, especially with it loaded with gear.
It comes with cushy back padding, well designed backpack straps, and concealable chest & waist straps. The pack also comes with a hydration reservoir compartment. This pack was designed for long hikes, special expeditions, and buggin' out.
Click here for the lowest price on Amazon
The Red Rock Large Assault Pack is just what it sounds like- it is a larger version of their popular assault pack.
They have created an even better version of the original that has 4 expanding compartments for all your gear, without becoming bulky or overbearing. The 4 compartments can store up to 35 liters of storage, with zippers and organizers in the three larger compartments.
The back panel can also hold up to a 2.5 L hydration bladder (not included).
This pack makes a great bug-out bag or 3-day pack. This pack is very rugged and spacious making it ideal for hiking trips, tactical missions, or for emergency personnel.
The pack is easily adjustable for added comfort and a secure fit, with contoured mesh padded shoulder straps, waist and sternum straps for even weight distribution. The pack also has MOLLE webbing straps to aid in your individual needs and customization.
8. Voodoo Tactical Mojo
Click here for the lowest price on Amazon
The Voodoo Tactical Mojo is a large duffel bag that can be worn as a backpack. Yes this duffle bag is huge and can even fit armor and other deployment gear if you are in the Armed Forces.
The bag can be loaded and then cinched down with compression straps to keep your gear from shifting. The bag has 11 different exterior pouches allowing for good organization. The bag comes loaded with PALS webbing which allows any MOLLE webbing accessory to be added. The price point is good since the quality is high and the pack is so large.  The carrying capacity of the bag is 173 liters and comes with a Lifetime Warranty.
9. Spec-Ops T.H.E Pack Tactical
 Click here for the lowest price on Amazon
The Spec-Ops T.H.E Pack Tactical is durable, comfortable, and well built bug out backpack. The pack made with 1000D Cordura fabric and has large YKK zippers. The Spec-Ops packs comes with dual compression straps and a removable 2″ waist belt that also comes with endless adjustable straps.
This pack has a lot of room for gear yet has great compartments for organizing your gear. Since this pack is made in the USA and carries a lifetime warranty, this pack is on of the top bug out bags on the market.
10. Kifaru EMR II
 Click here for the lowest price
The Kifaru EMR II is a high quality, versatile, and very functional extended mission backpack. This pack is quite large(8,400ci/137 liters) and comes with many different organizational pockets. The pack is made with durable 500d DWR coated Cordura fabric.
The EMR can be mounted to all Kifaru Duplex Frames(sold as bag only). There are plenty of PALS Matrix systems inside and outside of the bag allowing extra accessories to be added easily. Overall this is a comfortable, well built, spacious, and tough backpack that can be used from hunting to buggin' out.
–
Bug Out Bag Buyers Guide
A bug out bag is a large, accessible, strong, and convenient backpack that you can personalize the contents for your situation. This is a bag that you want to have ready so that you can grab it at a moment's notice. The pack should always be packed and stored in an accessible place. You never know when you might be forced to leave your home and have to survive on only what is on your back.
Size
There are many choices of packs out there that would make a good Bug Out Bag. In the end, the important thing to keep in mind is your personal preference. Remember that a Bug Out Bag is recommended to store 3 days worth of rations, water, and gear in a survival situation. An EDC or small pack is not going to have the space or organization options that you need to carry the gear that will save your life.
Comfort
As important as the size of the pack you choose is the comfort of the pack. Many of the packs that we reviewed have compression straps, extra padding, and other features to ensure that your body is healthy and able to carry what you need.
Organization
We also specifically narrowed down packs that offer a variety of compartments and organizational systems. As you can see from our Bug out Bag packing guide, you are going to be packing a large variety of items in your BOB and it doesn't do you much good to carry them around if you can't find the gear you need in a survival situation.
Look for a pack that has multiple compartments, with pockets and organizers built in to help keep track of the small items, and try to pack your BOB strategically with items grouped that you'll use together. Remember to pack clothes and bulky items on the bottom and heavier items at the top for a better weight distribution and to ease the strain on your body.  
MOLLE organization systems are a great added feature for a BOB. MOLLE webbing are straps built into the outside of your pack that allow for additional gear and even other packs to be attached externally. If you have a sturdy pack with MOLLE webbing and carabiners, you can add a lot more gear on the outside of the pack that you otherwise might not have been able to pack inside your BOB.
Quality
Because this pack is meant to hold gear for 3 days in intense survival situations, look for a pack that is durable and water-resistant to help protect the gear inside. Your pack is an investment in your survival, the contents of the BOB don't do any good if your pack fails and you can't carry everything.
FAQ
What do you need in a bug out bag? Packing a bug out bag can seem overwhelming as the task of not forgetting something important can be daunting. You can buy an already packed Bug out Bag, like this one here- Urban Survival Bug Out Bag. You can also check out our Bug Out Bag Checklist and personalize your bag yourself.
What does SHTF mean? This is an acronym that stands for Sh*t hits the fan. This means that something drastic has happened, like a natural disaster, financial crisis, or a war has started. This term is generally used for when things go south quickly.
Conclusion 
Remember that this pack should be prepared and stored somewhere easily accessible and rodent proof. It is also a good idea to review the contents of your pack every 6 months to ensure you have appropriate clothes packed for the season and that your gear and rations are in order. This will help you feel confident that your Bug Out Bag is ready to go at a moment's notice!