The 9mm pistol is one of the most commonly used pistols today. The 9mm was first introduced prior to World War I (1
). It's no exaggeration to say that it revolutionized the way Armed Forces around the world thought about sidearms.  It took a while longer for the 9mm to dethrone the revolver in the hearts and minds of the American public. But that worm finally turned during the 1980s.
Today, the 9mm semiautomatic (2
) is the standard issue sidearm of the US Army and is favored by law enforcement from the FBI on down. The fact that they're compact, light, lethal and affordable also makes them an excellent choice for self-defense. Below we've brought together the 10 best 9mm pistols on the market today.
1. Glock 19 Gen 5
Specs
Finish – Black
Barrel length – 4 inches
Cartridge Type – 9 mm Luger
Capacity – 15 + 1
Overall length – 6.85 inches
Type of magazine – Removable
It's hard to find fault with the fifth generation Glock 19. It chambers a 9mm Luger round (3
) with a capacity for 15 plus the chambered round. It's a handsome, compact firearm with a 4 inch barrel, clean lines and a sure grip that's been upgraded from earlier iterations.
This is a very comfortable sidearm to wield, with very modest recoil and an equally modest weight of less than 1.5 pounds. The mag well is slightly flared, which makes loading magazines a painless process and the gun is completely ambidextrous. If you're looking for the perfect concealed carry firearm this may just be it. Make sure you invest in a quality concealed carry holster as well.
2. SIG Sauer P365
Specs
Finish – Black
Barrel length – 3.1 inches
Cartridge Type – 9mm Luger
Capacity – 10 + 1
Overall length – 5.8 inches
Type of magazine – Removable
The P365 from SIG Sauer pulls off the incredible trick of being thinner than most single stack pistols even though it has a double stack magazine. The double stack mag holds 10 rounds and there's an extended magazine you can pick up that will hold 12.
We're not sure if its a function of the short, double stack but the balance of this pistol is outstanding. And light? You bet. Just 1.1 pounds. The P365 also comes with 3 dot tritium night sights. They're good for target practice but won't be much help when dealing with an aggressive intruder. Beyond that minor quibble though the P365 is a great choice for concealed carry, home defense or use as a backup weapon.
3. Walther PPQ M2
Specs
Finish – Black
Barrel length – 4 inches
Cartridge Type – 22 LR
Capacity – 10 + 1
Overall length – 7.1 inches
Type of magazine – Removable
The Walther PPQ M2 is not necessarily a great concealed carry pistol. Little too big perhaps for that. But woe unto an intruder should you manage to pull this puppy before they get the better of you. That said, from a performance standpoint this is a very comfortable, well-balanced firearm with an agreeable grip.
It's light (1.19 lbs), has a 4 inch barrel (5 inch variant available) and is compatible with both right handers and left handers. But it's the trigger that gets most of the press when it comes to the PPQ M2. Many consider it to be among the best ever offered for a striker-fired (4
) pistol. You won't find us arguing with that assessment.
4. Smith & Wesson M&P 2.0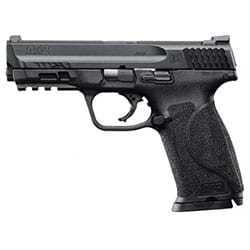 Specs
Finish – Black
Barrel length – 4.25 inches
Cartridge Type – 9mm Luger
Capacity – 17 + 1
Overall length – 7.4 inches
Type of magazine – Removable
If you're new to pistols and you're looking for a reliable and affordable personal defense sidearm you really can't go wrong with the Smith & Wesson M&P 2.0. This is a little heavier (1.5 lbs) and a little longer (7.4 inches) than the other pistols we've looked at to this point. So concealed carry is not a realistic option.
But it's easy to get a firm, comfortable grip, action is smooth and reliable and the mag holds 17 rounds. If we have an issue with the M&P it's that the trigger has an unusual look and feel to it. It doesn't seem to impair performance. But it just doesn't feel quite all there. That said, there are plenty of aftermarket triggers you can swap it out for.
5. Walther PPQ Q5 Match
Specs
Finish – Black
Barrel length – 5 inches
Cartridge Type – 9 mm Luger
Capacity – 15 + 1
Overall length – 7.1 inches
Type of magazine – Removable
With its ported slide the PPQ Q5 from Walther looks like something lifted from the drawing board of the late great H.R. Giger. That alone will be enough to send some folks reaching for the credit card. Fortunately, it's got the brawn to back up its slightly surrealistic air.
It features a 5 inch barrel, mounting plates for your choice of Trijicon, Leupold or Docter sites and it tips the scales at a fairly hefty 1.63 pounds. No doubt that weight contributes to the solid feel of the gun and also helps reduce recoil to some extent. This is a great range gun or home defense option.
6. SIG Sauer P320
Specs
Finish – Black
Barrel length – 3.9 inches
Cartridge Type – 9mm Luger
Capacity – 15 + 1
Overall length – 7.2 inches
Type of magazine – Removable
After a $17 million search that took two years and involved a dozen companies the US Army in 2017 chose the SIG Sauer P320 to replace the Beretta M9 as its standard issue sidearm (5
). That's good news for the company, its employees and New Hampshire where the gun will be manufactured.
It should also tell you something about the reliability and performance of this pistol. If $17 million in testing isn't enough to convince you of the gun's worthiness no argument we could make will. Suffice to say it's an excellent choice for concealed carry. It's accurate, easy on the recoil and comes with interchangeable polymer grips.
7. Springfield Armory XD-S
Specs
Finish – Black
Barrel length – 3.3 inches
Cartridge Type – 9mm Luger
Capacity – 7 + 1
Overall length – 6.3 inches
Type of magazine – Removable
The Springfield Armory XD-S 9mm is a compact tour de force that's thin enough for effective concealed carry but still packs a significant punch. At just over 1.3 pounds it's light. Which means it's going to generate a bit more recoil than a heavier pistol like the P320.
But the super comfortable grip enables a strong hold with minimal effort. And that will allow you to absorb any additional recoil pretty effectively. This striker-fired pistol is made in the US. The only real downside we see here is the 7 shot mag. Other than that it's all good.
8. Beretta 92FS
Specs
Finish – Stainless
Barrel length – 4.9 inches
Cartridge Type – 9mm Luger
Capacity – 15 + 1
Overall length – 8.5 inches
Type of magazine – Removable
Beretta took a significant hit when they lost the contract to supply pistols for the Army. But they're not sulking in the corner. They're still pumping out some of the best 9mm pistols on the planet. We're particularly fond of the 92FS.
It's a large (just over 2 pounds), take-no-prisoners pistol that's 8.5 inches in overall length and features an open slide and a stainless steel finish that's a nice change from standard black. There's also the 15 round mag that just makes life that much easier. Much is made about its accuracy over distance. And it's true that at 50-75 yards it may be the most accurate 9mm you'll find.
9. CZ 75 SP-01
Specs
Finish – Black Polycoat
Barrel length – 4.7 inches
Cartridge Type – 9mm Luger
Capacity – 10 + 1
Overall length – 8.1 inches
Type of magazine – Removable
At 8.1 inches in length and 2.4 pound the CZ 75 SP-01 Tactical is big pistol. Though it feels a little better balanced than earlier iterations and has a more comfortable handle. And there are other upgrades from the 75 B as well.
Including fixed tritium night sights, a CHF barrel and a 1913 Picatinny accessory rail. The improved handle allows you to get firmer grip with little effort and this (along with the weight) helps absorb recoil, resulting (at least in theory) in more accurate shots. It's an outstanding choice for a range pistol or home defense weapon.
10. Heckler & Koch VP9
Specs
Finish – Black
Barrel length – 3.4 inches
Cartridge Type – 9mm Luger
Capacity – 10 + 1
Overall length – 6.6 inches
Type of magazine – Removable
The last of our best 9mm pistols is the H&K VP9. This is a pocket rocket of extraordinary quality and reliability. It weighs an agreeable 1.4 pounds, has a wee 3.4 inch barrel and is only 6.6 inches overall.
That light weight means recoil. But the outstanding grip ensures that you can get a handle on that without much effort. This is a favorite in the law enforcement community who relish its build quality, reliability, light weight and accuracy. A very fine concealed carry weapon.
FAQs
What are the Advantages of a 9mm?
The advantages of the 9mm are many and easy to appreciate. It's light, inexpensive, has a large magazine capacity, low recoil (6
) and is as effective as some larger caliber pistols. Let's take a closer look at these advantages now.
It's Inexpensive
While some pistols like the Kimber Classic Fury can set you back more than $1,500 a very serviceable, dependable 9mm can be had for less than half that. Which makes effective self-defense accessible to most individuals. The ammo is typically affordable as well. That's because of the smaller, (not small) cartridge size. The less copper, zinc, tin etc that's used to create the cartridge that less expensive the cartridge. So the 9mm is truly the people's pistol.
It Packs a Significant Punch
Most contemporary bullets have undergone revisions that allow them to deliver a more impressive punch than before. And so it's not like 9mm ammo has advanced while all others have stood still. Nonetheless today's improved 9mm projectiles carry approximately the same authority as yesterdays .45 bullets. And yesterday's .45's could take down significant targets without having to ask nicely.
There's Less Recoil
The purpose of firing your pistol is to hit the target, right? So any firearm that provides a better chance of doing that must be considered to have an advantage over wrist-busters that kick like a mule. There are those who would argue that dealing with recoil is primarily a mental exercise. And to a certain extent there's something to that.
But psychological arguments aside, you purchased your sidearm for a reason and you want it to fulfill its function as easily as possible. That way you don't have to work on your technique while under assault. So the lower recoil of the 9mm is definitely a plus for those non-professionals who purchased the gun for self-defense purposes.
Higher Capacity Magazine
Glock, Beretta, CZ, S&W and most other manufacturers either provide a stock magazine that will accommodate 15+ rounds or have high capacity aftermarket magazine you can buy. Some go as high as 20 rounds, plus the one in the chamber. If you're in a situation that requires more rounds than that you'll need to call in air support. Either that or move to a safer neighborhood.
Who Typically Uses a 9mm Pistol?
Without a doubt the 9mm has become the gun of choice for those seeking a concealed carry self-defense sidearm. At the same time it's also made significant headway into the realms of the armed forces and law enforcement. Here's how that happened.
Military Adoption of the 9mm
In 1911 the Army switched from the Colt .38 revolver to the larger, semiautomatic M1911 pistol (7
). The M1911 remained the standard issue sidearm for American military personnel (8
) until 1985 when it was replaced by the Beretta M9.
A lot of people questioned the move to the smaller 9mm. But the Army's rationale for making the change came down to many of the same reasons the 9mm appeals to individuals intent on finding an effective self-defense weapon. That is, they're lighter, have the aforementioned large magazine and they generate less recoil.
So, if a soldier needs to draw their weapon they're able to do so quicker and easier, they're able to get off more shots before reloading and they're able to carry more rounds to stay in the fight longer. Also, firing off 30 or 40 shots with a 9mm isn't as tiring an exercise as firing an equivalent number of shots from the larger .45 caliber M1911.
Military planners at the time also desired to bring all Allied sidearms into harmony with one another for practical purposes. Remember, it was 1985 when the switch was made. The Cold War was at its height and both Western Europeans and Americans expected the Soviets could come crashing through Checkpoint Charlie (9
) at any time, igniting WWIII. So if American, French and West German soldiers found themselves manning the same barricades it would be better if they all used the same type of sidearm so they could share resources if necessary.
Law Enforcement's Embrace of The 9mm
Although the Armed Forces adopted the 9mm in the mid-80s law enforcement was slower to come around to its many advantages. The Army's embrace of the 9mm did get the FBI's attention and in the late 80s there was movement toward the Glock S&W 40 caliber. It wasn't until 2015 however, that the FBI finally embraced the 9mm (Glock 5). Making it their standard issue sidearm.
The change came about after the agency had conducted exhaustive testing and determined that most agents were able to shoot quicker and more accurately with the 9mm. The agency determined that even those who had previously struggled with their control were able to achieve decent accuracy with the 9mm as opposed to the 40 cal. And with today's high-tech rounds it will produce impact that is equal to or greater than .40 S&W rounds.
The Affordability Factor
Let's not forget that both the Armed Forces and the FBI are taxpayer funded entities. As such they are required to at least try to keep costs down when at all possible. And since 9mm pistols are generally one of the more affordable sidearms and also feature less expensive ammo it makes sense for both of these arms of the government to embrace them, as long as they are reasonably effective.
Things to Consider When Buying a Self-Defense Firearm
Buying a 9mm or other firearm for self-defense is not as simple as closing your eyes and pointing at the pistols displayed on the computer screen. There are a number of factors you'll want to consider before plunking down your hard-earned money. Here are the most important considerations:
Are you committed to learning how to use it? – If you're going to purchase a sidearm you need to learn how to use it properly. Just shoving it into the drawer of the nightstand to be used in case of emergency isn't going to work. There's a lot involved in employing a firearm safely and effectively (10). You need to know and practice these things or you're likely to hurt yourself or a loved one and not the intruder. If you're not committed to learning how to use the weapon properly we'd urge you to get a dog instead.
Do you want a revolver or semiautomatic? – Maybe your mind is already made up and you want a 9mm. Good choice. But some folks just can't get past the image in their head of Clint Eastwood brandishing that .44 Magnum S&W Model 29 revolver in Dirty Harry (11) and think anything else would be uncivilized. Or at the very least unmanly. Think again. Not even forward deployed forces in Afghanistan wield the .44 Magnum. Too big and clumsy. And while it's true that, as the good Detective Callahan says, it will blow someone's head "clean off", it will only do that if you're able to control the incredible recoil and actually hit the target. Which is pretty unlikely. Stick with the 9mm semi.
How much can you afford to spend? – One of the many great things about the 9mm is that, on the whole, this type of pistol is very affordable. Still, as with most items you'll find some are more expensive than others. Even on our humble list of best 9mms you'll find some that range as high as $850. At the same time there are others that can be had for less than half that. In most cases the average person intending to use the firearm for self-defense purposes won't notice much difference between the two.
Try to preview the gun – A lot of pistol clubs in the US will allow visitors. This is a good way to meet others, get input and perhaps see some different 9mms in action during a match. If you get a chance to hold a few different models by all means do so. This will give you a sense of how the different guns feel in your hand. That's important because some will accommodate your physiology better than others.
Final Thoughts
There are a lot of high-quality, affordable 9mm pistols on the market these days. In many ways it's the golden age of pistols. There are so many that we had to leave some off our list that were certainly noteworthy. In the end though we're certain you'll be able to find the right 9mm for your purpose among our 10 choices. Just keep in mind the considerations listed above. And above all commit yourself to learning how to use, maintain and store the gun properly. For everyone's sake.