Throwing knives are among the coolest looking tactical weapons out there.
The origins of throwing knives can be traced back to many ancient civilizations throughout Asia, Africa, Europe, and the Americas. They are widely considered one of the original weapons used by man and were purportedly the weapon of choice for Tutankhamun in Egypt around 1300 B.C (1).
However, if you've ever tried throwing a knife, it can be quite difficult. Sure, it looks awesome in the movies when the bad guy is stopped by one, but when you're first starting out in your backyard, there are a few tricks to learn.
First, it takes hours of practice to even be somewhat decent at it. Second, you 'll need to accurately gauge how far the target is, how many times the knife will spin, how hard to throw, the right arm motion, and that's not all. You'll also find out pretty quick that having the right knife is critical.
Some knives will never work for a number of reasons and you're more likely to break them than to be remotely effective throwing them at a target. Knowing this, we've put together our list of the 10 Best Throwing Knives of 2022.
The knives below offer quality and durability. Most are easily affordable and will provide lots of fun while practicing. We've also put together a buyer's guide at the bottom to outline some of the details for choosing the best knife.
1. Smith and Wesson Throwing Knives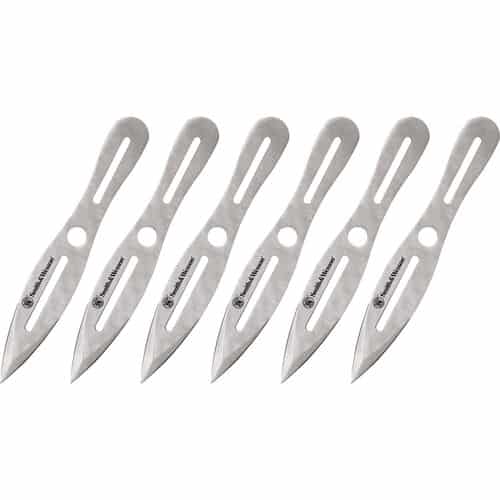 Smith and Wesson are known for crafting high-quality knives, and these light-weight practice blades are no exception. With their lighter weight, coming in at 4.7 ounces per blade, these are great starter blades for close-range throwing.
These knives feature a double-sided blade for better penetration and are crafted with stainless steel for excellent corrosion resistance. This set comes with a nylon belt sheath for all 6 blades, making it a great option for those learning to throw knives, or for those wanting light practice knives.
2. SOG Throwing Knives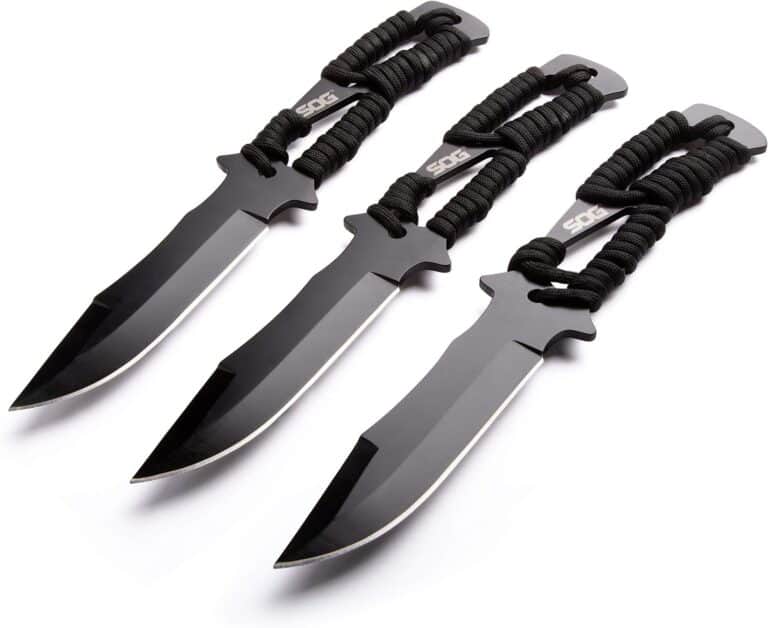 For a dedicated knife thrower, having dedicated throwing knives is a requirement. However, while learning, or deciding if throwing knives is for you, it's nice to have the option to throw your blade, while also being able to just use it around the camp or at home.
If this description matches you, look no further! SOG's throwing knives are the perfect combo of throwing knife and camping knife. They come in a set of three versatile knives, with a straight-edge blade and a glass-reinforced, paracord-wrapped handle for added strength and grip. It also comes with a nylon belt sheath that fits all three knives.
3. Kershaw Ion Throwing Knives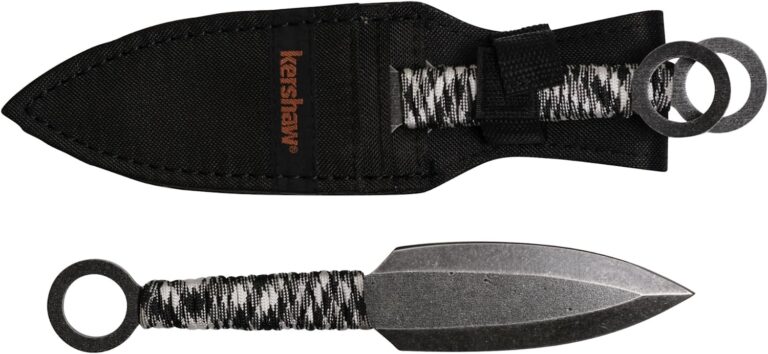 Deviating a bit from the traditional throwing knife style, Kershaw has managed to make a unique, great looking knife that also operates at a high-performance level. The Ion's ring on the back of the knife offers balance and also makes these knives easy to remove from their sheath.
With a full tang stainless steel blade, this knife has great blade strength, edge retention, and corrosion resistance. With a blade length of 4.5 inches, a weight of 4 ounces per knife, and a fixed spear point blade with a black oxide finish, this a great option for anyone!
4. Cold Steel Sure Flight Throwing Knife
Well-respected in the knife manufacturing industry, Cold Steel has created yet another high-quality blade. With long, heavy blade, with an overall length of 12 inches and a weight of 8.2 ounces, this is a slow-turning long bomber.
These knives are perfect for a beginner learning how to count rotation but can also be handy for a more experienced thrower wanting to perfect their long-range shots. The blade is continuous and crafted from 1055 carbon with just plain metal for the handle.
5. United Cutlery Expendables Kunai Thrower Set
Modeled after the throwing knives used in the Expendables movie, these knives may look like movie relics but they are actually great throwers. Combining style with quality, United Cutlery has made a great throwing knife for any level of throwing enthusiast.
With a 12-inch overall length, a weight of 7 ounces, and a handle wrapped in paracord, this knife features a full tang stainless steel blade that has been anodized black and is well balanced. With loops in the handles for quick access and a nylon sheath, these are a great option.
6. Boker Magnum Bailey Ziel
Boker has made a great looking knife that performs to a high standard. A tournament-grade knife, the Ziel sports a stainless steel 13.25" blade. Weighing in at 14 ounces, this knife can pack a punch when it connects with its target.
With convenient markers on the handle, the thrower can know exactly where to grip the knife to get a more consistent throw every time. The knife also comes with a leather sheath, and overall, it's a great option for anyone looking for a great knife, but focused on a more experienced thrower.
7. Perfect Point Throwing Knife Set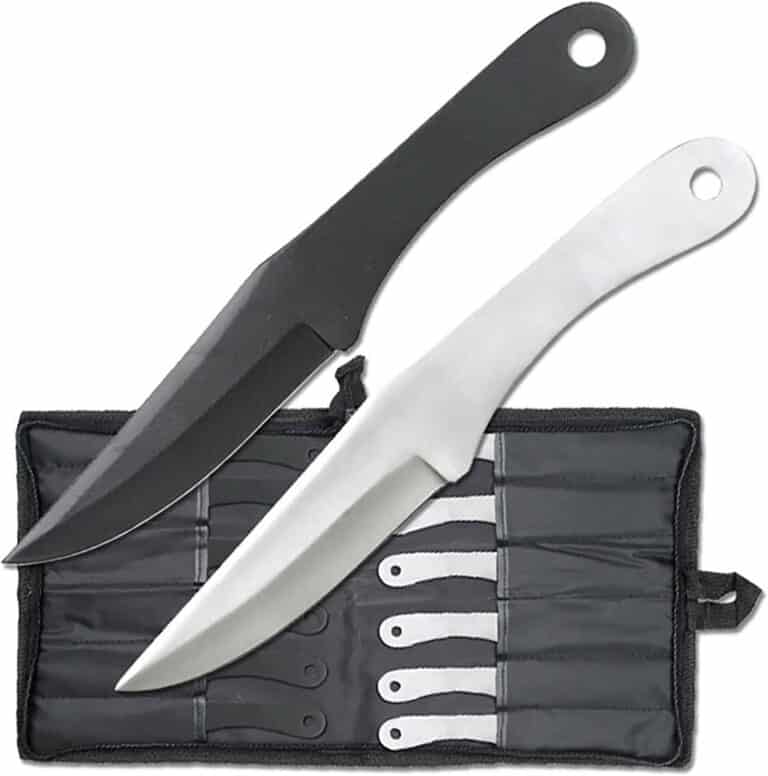 A great option for beginners, this Perfect Point throwing knife set comes with 12 blades, six silver and six black.  These stainless steel blades measure 8.5" overall, but offer a fast-spinning design, which makes them perfect for close shots.
With a handle loop for quick access and cord wrapped handles, Perfect Point provides excellent quality at a very reasonable price. This set includes a nylon sheath with a belt loop and leg straps.
8. Cold Steel Torpedo Thrower
A formidable weapon or a really fun throwing tool, the Cold Steel Torpedo is a unique design for a throwing knife. Weighing a hefty 2 pounds, it's a long cylinder of impressive force. Double-tipped for twice the chance of striking the target point-first, it's efficient and easy to use.
With enough weight to break bones on impact, even striking flat, it's perfect for situations where guns are prohibited or unusable. Made of high strength steel, it's perfect for beginning throwers and experts alike. At 15 inches in length, it can even be used at close quarters to strike opponents or be used as a dagger.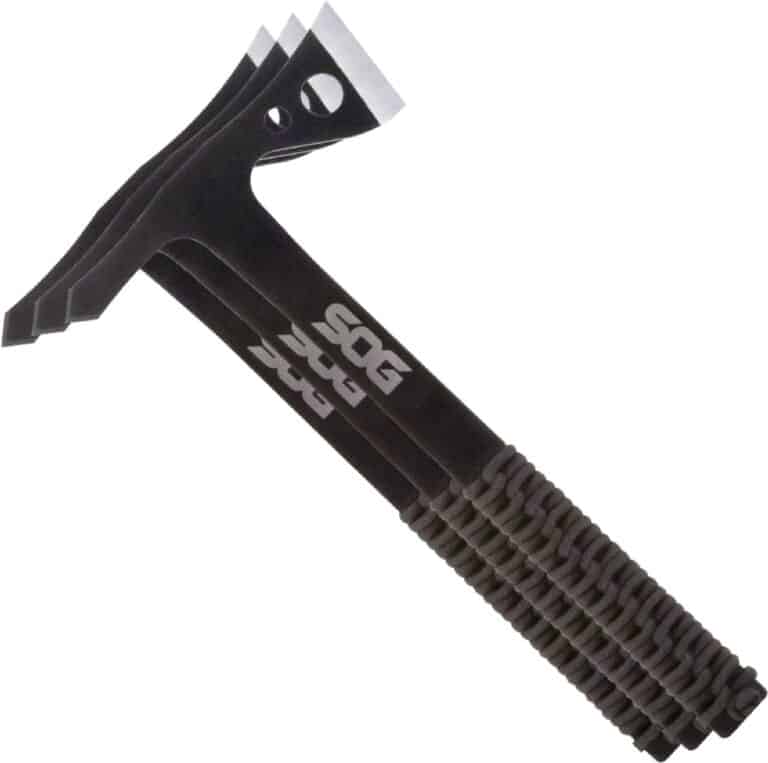 SOG provides yet another quality tool with these throwing tomahawks. This set is a great fit for beginners looking to improve their skill or experts looking to change up their knife throwing. They're also perfect for general axe chores around your home or yard.
Made of steel with a one-piece design, you can be confident that the axe heads won't go flying off or break off the handle. The handle is wrapped with paracord to give sturdy a sturdy grip. They come as a set of three, with a nylon sheath that houses all three.
10. Gil Hibben Cord Grip Throwing Knife Set
Available in a set of 3, the Gil Hibben Cord Grip Throwing Knives are as well known as the man they get their name from (2). Tough and accurate, these are great throwing knives for the experienced thrower looking for knives with perfectly balanced rotation.
This set is manufactured with 420 J2 Stainless Steel and includes a black nylon sheath. Each knife features non-slip, high-tensile, cord-wrapped grips with a blade length of 4.25 inches. The total length of each knife is 8.625 inches and their individual weight is a hefty 8.6 ounces.
–
Buyer's Guide
There's a lot of variety in throwing knives. Knives are manufactured with many differences, including material, length, weight, aerodynamics, sheaths, and more. To help you out, here are some features to consider before making a purchase.
Use
The first thing is to consider how you will be using the knives. Are you wanting something to just throw around in the yard and the same stump over and over? Are you wanting something for self-defense? Something for hunting?
How you plan to use your throwing knives will largely dictate the type of knives you buy. Beginners can actually benefit from starting out with heavier, longer knives while experts may be looking for a smaller, lighter set. If you plan to practice by throwing into a cardboard box instead of wood, for example, durability won't be as great of a concern.
If you're interested in breaking the record set by "Throwdini" of throwing a knife into a 12-inch round from a distance of 101 feet (3), weight and aerodynamics will make all the difference. But if you're primarily interested in a knife that can be used in self-defense, consider something that packs a punch and is quite heavy.
Material
The construction of a throwing knife matters greatly when it comes to durability. Different metals offer greater strength than others while some are more susceptible to rust and corrosion. It's important for you to distinguish between what makes a strong knife and what just sounds fancy in an advertisement.
Most of the knives we've listed above are made of stainless steel. Indeed, stainless steel is arguably the most common material used for throwing knives (4). While stainless steel allows for a shiny, eye-catching finish, it can make knives that are susceptible to broken or bent tips. In the worst case, they can break in half completely.
Some of the higher end throwing knives on the market are constructed from high carbon steel. These knives are generally more durable than their stainless steel counterparts and, in some cases, will last forever. The downside of high carbon steel, however, is that it is more susceptible to corrosion and is typically more expensive to manufacture.
Price
While price is typically a factor when buying any product, there isn't a lot of variation when it comes to throwing knives.  Cheap, low-quality knives come in at about $5-$10 and can actually be quite handy when you're just starting out and practicing your technique.
The lowest priced knives that still offer decent quality come in around $10-$15 per knife and you'll notice them as quite an upgrade from the $5 to $10 variety. Most of the higher quality knives fall into the $40-$60 range, but for reference, there are a select few knives on Amazon that top out around $70.
While buying a single blade can be a great way to go for some people, most people are going to want to buy a larger set of knives to be able to practice repetition easier. There are lots of sets of 3, 6, 9, or 12 knives to choose from.
Length and Weight
Length and weight are highly correlated and should be considered together. The length of a blade is an important factor that determines how many times it will spin in the air. Other factors include how hard the knife is thrown and the technique used. Generally, shorter blades tend to spin more and longer blades spin more slowly. While learning, a longer blade is good to use, as it makes counting rotations much easier.
Weight is going to impact the range of the throw greatly. With a lightweight knife, it's going to be hard to throw any extreme distance and still have any knockdown force. Many heavier knives, can actually travel great distances and still maintain considerable power upon impact.
Aerodynamics
Finally, aerodynamics should also be considered. For example, a knife with lots of protrusions or strange designs is not likely to not fly as well, which can negatively impact your throwing. A tomahawk will also fly much differently than a more traditional blade. As you might imagine, a sleek, slim design is going to eliminate the likelihood of a strange flight and conversely improve your ability to hit the target.
Summary
If, like Tutankhamun, the throwing knife is your weapon of choice, thinking about these characteristics is a great place to start when buying a throwing knife or throwing knives. As with most skills, practice makes perfect and, in this case, will also make you look as cool as those ninjas in the movies. Good luck throwing!