Natural disasters seem to be occurring more and more frequently. There has never been a better time to be prepared for a disaster of some sort.Survival food kits are a great item that can be stored long term and give you peace of mind. In fact the current state of the world provides ideal conditions for devastating natural disasters (1).
There are more people than ever living in more dangerous places than ever. Deforestation has made mountainsides breeding grounds for flash floods and landslides and warmer oceans are breeding more powerful hurricanes. The bottom line is that virtually nowhere is safe these days from disaster of some sort. The best we can do is make sure we and those we care about are ready.
As such, survival food kits have become an essential item for the home. And we have the 10 best right here.
1. Wise Company, Emergency Food Supply
Wise makes a number of different emergency food supply kits. But this one strikes us as being a particularly good value. It features 120 servings of freeze-dried food with a shelf life of up to 25 years. And we're not just talking cup o' noodles here. The menu for this survival food kit includes chicken noodle soup, creamy pasta, Southwest beans and rice, cheesy lasagna, teriyaki and rice, potato casserole, chile mac and much more.
Each one is ready to go the minute you need it. And everything is self contained in the durable plastic bucket. If you want, the company suggests you can take individual meals along with you on camping or hunting trips. But we'd recommend leaving the kit intact and storing it away for a true emergency.
2. Mountain House Essential Bucket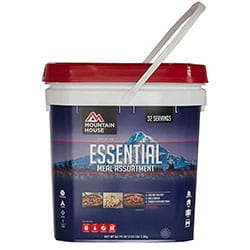 The Mountain House Essential Bucket is all about food. This emergency food kit contains 32 high-quality freeze dried meals that are guaranteed to retain their flavor for up to 30 years. Each bucket contains an equal number of chicken and rice, chile and spaghetti dinners. Although, for some reason we can't quite get our heads around each pouch contains 2.5 servings. Seems potentially wasteful. Wouldn't it be better to just make it 2 or even 1 serving per pouch?
This is the main reason this otherwise excellent survival food kit doesn't top our list. When you're in a survival situation you need to be a paragon of efficiency. Being forced to make or eat more food than you need is anything but efficient. Still, having this kit on hand should disaster strike will nonetheless go a long way toward settling frayed nerves.
3. ReadyWise Complete 2-Day Emergency Survival Backpack
Some survival kits are heavy on the food. Some put more emphasis on hardware like flashlights and emergency blankets. And some provide plenty of both. Such is the case with the ReadyWise Complete 2 day backpack.
This is one of the more well-rounded kits on the market that provides 20 servings of emergency food along with a first aid kit, flashlight, water filtration bottle, cooking essentials, and more. There are a total of 134 pieces.
4. Ready America 70385 Deluxe Emergency Kit
The Ready American Deluxe Emergency Kit contains several days worth of unspectacular but effective emergency rations and 3 days of fresh water (as long as you're parsimonious about using it) for 4 people. Or, if there's just 2 of you, that's 4 days worth of food and water. But this emergency kit doesn't stop there. There's also a full first aid kit, a power station that's also an emergency LED flashlight, heavy duty gloves, duct tape and even a multi-tool. And let's not forget the durable backpack in which to store and tote everything. With the Ready America 70385 Deluxe Emergency Kit you'll be ready for just about anything mother nature can dish out.
5. NuManna 80 Meals Grab-N-Go
The days of having to scrape by on candy bars in the wake of a disaster are officially over. With the NuManna Grab-N-Go emergency food kit you'll be able to choose from pasta primavera, rice pilaf, habanero chili, mac and cheese, pasta marinara or potato casserole. And it's not like there's only one of each. The kit contains a total of 80 meals which means there's enough for the whole family for several days at minimum. If there's only 2 of you you're set with food for a couple of weeks. Sure, you don't get an LED flashlight or duct tape with the NuManna Grab-N-Go bucket. But sometimes all you really need to do is keep everyone fed while you wait for help to arrive or the power to come back on. And there's nothing stopping you from purchasing those other things on the side.
6. NorthWest Fork 30 Day Emergency Food Supply
NorthWest Fork 30 Day Emergency Food Supply is another food centric survival kit designed to provide enough food to keep a small family properly fed for up to a week. Each resealable pouch contains 15 servings of one of 6 different meals. There's pinto bean stew, black bean stew, green pea soup, tropical trio oatmeal, strawberry banana oatmeal and black bean chipotle stew. Each pouch has a shelf life of 10 years. However, once you open them that shelf life expectancy drops drastically. So keep that in mind. Again, there are no fancy power packs here, no compasses, multi-tools or emergency blankets. Just food. And we're basically okay with that. If we have a quibble it's that the food comes in a carboard box.
7. Augason Farms 30-Day Emergency Food Supply
When it comes to sheer volume of emergency food it's hard to top the Augason Farms 30 Day Emergency Food Supply. This incredible bucket of food contains more than 300 servings. And not just a bunch of noodle dishes. There's maple oatmeal, hearty chicken soup, creamy potato soup, cheesy broccoli with rice, creamy chicken with rice and much more. There's also a comprehensive meal planner on the back of the bucket. So this is exactly what it says it is. A 30 day supply of emergency food. That means you'll need to come up with your own portable stove and fuel and your own serving dishes and plates. Our advice would be to purchase these things and keep then in a backpack near the food bucket so you can grab both quickly in the event of an emergency.
8. Sustain Supply Co. Premium Emergency Survival Kit
The Sustain Supply Emergency Survival Kit is designed to provide 2 people with 3 days worth of emergency food and water, or 6 days for 1 person. Most relief experts agree the 72 hours immediately following a disaster are crucial in determining whether a person will survive or fall victim to the chaos around them. This survival kit provides you with enough food and water to emerge from this critical period physically intact. It also provides a host of other necessities including an LED flashlight, a pocket knife, a firestarter kit, an LED lantern, emergency whistles and more. Everything you need to transcend a desperate situation. Keep it in your home or the trunk of your car. Or better yet, keep one in each place just to be sure.
9. EVERLIT Emergency Survival Kit
While most of our survival kits up to now have focused on providing food there are times when you'll need more than a dish of freeze dried rice and beans. For those times there's the Everlit Emergency Survival Kit. This is a full-service emergency response kit that includes enough emergency food bars to last several days, 24 packs of drinking water totaling 3+ liters, an emergency radio, rope, a first aid kit, heavy duty gloves, a compass, a hand-crank flashlight, thermal blankets and more. Along with a rugged backpack to carry everything in. It's a must to have in the car if you're forced to make a last minute evacuation. Or to have in the house if you're suddenly beset by flash flood waters or a tornado.
10. Legacy Premium 60 Serving Survival Kit
The final item on our list of best survival food kits is this outstanding value from Legacy Premium. The durable plastic tub comes stuffed with 60 servings of pasta with marinara sauce, chili, stroganoff, pasta alfredo, oatmeal and much more. All foods are GMO free and have a shelf life of 10 years when not opened. Each package makes enough food for a small, hungry family. So if you're on your own this might not be the food survival kit for you. That said, couples and families will find plenty to like here and they'll have a much easier time surviving a disaster if they have one of these buckets on hand.
FAQs
What are Survival Food Kits?
A survival food kit contains easy to prepare, non-perishable foods that can be used in the aftermath of a natural disaster. They help you and your family weather the period immediately following a disaster when power is out, water supplies may be contaminated, your kitchen may be useless and help has not yet arrived.
Most emergency foods are in a dehydrated or freeze-dried state which gives many of them a potential shelf life of decades. All you need to be able to use them is a camping stove and something to cook in. And indeed some survival food kits will provide you with a small stove and pan. With more people than ever being victimized by nature's fury survival food kits are no longer the exclusive domain of survivalists. They're now the exclusive domain of those with common sense.
What Situations Call for a Survival Food Kit?
There are any number of situations both likely and pretty unlikely that might call for you to access your emergency food supply. Here are just a few.
What are the Characteristics of a Good Survival Food Kit?
A good survival food kit includes:
Food that's easy to cook – Your emergency food should not take more than a basic heat source and, in most cases, some water to prepare.
Practical portions – You don't want portions that are so large you can't finish them. It's better to have more modest portions. That way if you're still hungry after one you can prepare another. But if you're satisfied after one nothing will go to waste.
Lots of calories – Your keto diet might have to take a back seat during a survival situation. What you need are calories in order to keep your body powered until help arrives or power is restored. The average adult needs about 2,000 calories per day even if they're not physically active (8). Can you live on less? Sure. But your emergency preparations should not include preparing to starve.
High nutritional value – Calories are one thing but you won't live long on powdered drinks alone. You need vitamins and minerals as well. So the food in your kit should have a decent nutritional profile.
A long shelf life – You never know when you might need your emergency food kit. So it's important that it have a long shelf life. This is is why most emergency foods are either dehydrated or freeze-dried.
The importance of complementary items
It's in the interest of homeowners to get the most comprehensive survival kit possible. That means one that includes things like emergency blankets, candles, batteries and more. Some of the more deluxe kits come with their own portable stove. And that's important. If your survival kit does not include a stove and fuel make sure you purchase them separately and store them with the survival food kit. Emergency food isn't much good after all if you can't cook it. If you already have food storage covered and just want a survival kit, this is the article for you.
Does Survival Food Have a Long Shelf Life?
It certainly should as we just discussed. Most survival food kits contain individual food items or meals that have been either dehydrated or freeze-dried. You can also check out our article on good foods to freeze dry.  Most people who know the difference will tell you that freeze dried food will have a longer shelf life. And in some cases that's true. Especially when it comes to things like freeze-dried fruit and prepared meals that contain meat and vegetables. Simple dehydrated noodles however have an outstanding shelf life and, as long as the seal is not broken could potentially last for years. MRE's are another option for food storage and has a long shelf life but can be expensive.
In fact, some freeze-dried foods can last 20 years. Why the astonishing shelf life of these items? Because a freeze dryer (9) removes nearly 100% of the moisture content. The freeze-dried food is then vacuum sealed in a foil pouch. This process removes the two enemies of food: water and air. The same is essentially true of the dehydrating process. Except that in some cases dehydrating doesn't remove quite as much water.
How Long Does It Last Once You Open It?
Once you open a package of dehydrated or freeze-dried food you allow the enemies of food free access. As a result, shelf life plummets. Even if you don't expose the food directly to a pot of water there is moisture in the air that will start to work on it. As a result, once you open the food in your survival food kit it's best to eat it straight away. Because in just a day or two it's likely to start going bad.
You might be able to get a bit more life out of your emergency rations if you take the extra and seal it up immediately in a Tupperware-style container. But even then the clock is ticking unless you promptly place the food in the freezer. And if you're in a survival situation chances are there aren't any freezers available.
You may however, find a saving grace in the weather. If you are isolated in the backcountry during the winter nature can act as your freezer. It is not a perfect substitute for a real freezer (10), but as long as the temperature remains below freezing (repeat: remains below freezing) and you store the food out of direct sunlight even cooked leftovers will be viable for some time.
The Bottom Line
More people than ever live in earthquake zones, tornado zones or coastal areas that are vulnerable to devastating hurricanes. In addition, our modern dependence electricity means that if the power source fails our food spoils and we can be left in the lurch. Emergency food kits are every bit as important to have on hand as flashlights, spare batteries, basic tools, candles, dry matches and more. Without these things you're at the whims of fate should a disaster strike. With them you'll be able to weather the storm and emerge unscathed.