Shooting gloves are an awesome addition to your hunting arsenal. The thickest of shooting gloves will keep your hands warm and protected as you focus on the target you're tracking. Thinner varieties allow you to maintain a solid grip on your firearm at all times, especially if you're someone that deals with sweaty palms!
Our list of the Top Ten Shooting Gloves of 2023 gives you a variety of options so that you can find the pair that fits your needs. Be sure to read through our Buyer's Guide after the top ten list to learn about the most important considerations when buying a new pair of shooting gloves. Finally, the Frequently Asked Questions section will answer any lingering concerns you might have. So, let's get to the shooting gloves!
1. Mechanix Wear Specialty Vent Tactical Gloves
These lightweight mesh shooting gloves are designed to allow plenty of air to circulate throughout the glove to keep your hands cool and dry. They are machine washable and ideal for users dealing with sweaty hands in hot and humid environments.
The Mechanix Wear Specialty Vent Tactical Gloves combine breathable mesh with a perforated 0.6-millimeter palm. They boast anatomical stich darts that conform to the natural curvature of your hand to create a precise fit. Furthermore, these shooting gloves feature a 360-degree, touchscreen-capable palm.
2. FREETOO Tactical Gloves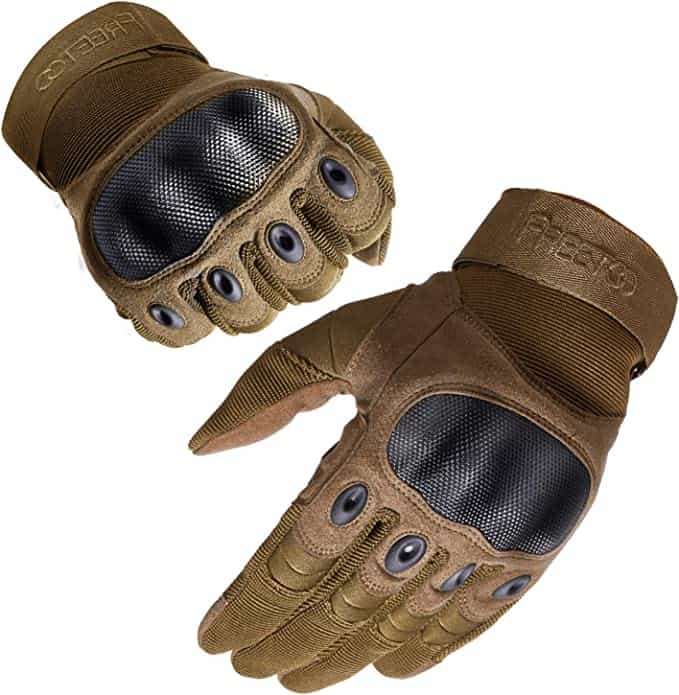 These FREETOO gloves are made for hunting, shooting, tactical maneuvers, and other outdoor activities. They are designed to protect your hands from abrasion and scratching while maintaining their dexterity and function.
These gloves come with a reinforced palm, knuckle padding, and double stitching so that they'll hold up for rugged use. They also come with excellent grip by way of a dual-layer, synthetic leather palm that features anti-skid gridding. Finally, these shooting gloves feature odor-free, breathable materials and a functional vent design that makes them comfortable to wear in both hot weather and during the winter season. You can also invest in some winter gloves if you spend a lot of time in the cold.
3. 5.11 Tactical TAC A2 Gloves
These shooting gloves are a popular choice among law enforcement officials and special operators around the world. They are designed to provide the user with enhanced dexterity in operational settings while maintaining superior comfort at the same time.
The 5.11 Tactical TAC A2 Gloves boast a synthetic leather suede palm and a breathable stretch nylon back panel. They come with reinforcements in the areas of the finger joints and the saddle located between the thumb and index finger. Synthetic leather grip pads and TacticalTouch™ precision fingertips help to guarantee a solid grip on your firearm while a sweat wipe panel on the thumb gives you a way to wipe sweat away in the heat of the moment.
4. ArcheryMax Three Finger Archery Gloves
Our list of the best shooting gloves wouldn't be complete without mentioning a glove designed specifically for archers and bow hunters. The ArcheryMax Three Finger Archery Gloves are made from cow leather and include an adjustable Velcro wrist strap.
These gloves are designed for archers that want to protect their fingers while retaining a sensitive feel. By using a soft, thin, and durable leather finish, these gloves provide excellent sensitivity to the feel of the string. The tips of these gloves are also reinforced to improve their longevity.
5. Mechanix Wear M-Pact Coyote
The Mechanix Wear M-Pact Coyote Gloves are a slightly beefier version of the Specialty Vent Gloves we mentioned earlier. This specific color scheme is designed for military and Special Forces operating in desert and mountainous terrain, but these gloves can also be great for hunters that frequent those same types of environments.
These gloves are machine washable and the offer superior protection through a Thermoplastic Rubber (TPR) (1) knuckle guard and finger guards. A dual-layer internal fingertip reinforcement also supplies added durability in rugged conditions. These gloves featured D30 (2) palm padding that's designed to absorb and dissipate high-impact energy through the palm. Lastly, these gloves come with nylon web loops that make them easy to store when not in use.
6. PIG Full Dexterity Tactical Alpha Gloves
The Pig Full Dexterity shooting gloves offer a single layer, multi-piece palm that's designed so that there's only one layer of material contacting your shooting grip. The designers purposely placed the thinnest layer of material on the trigger finger for ultimate sensitivity. They also made the knuckle padding on these gloves thin enough to make it easy to reach for items in your pocket without getting your hand stuck.
These shooting gloves are worn and proven by Special Forces personnel who require maximum dexterity so that they can perform well in tactical situations. The gloves offer a touchscreen capable thumb and trigger finger to allow you to use your smart devices in the field. They also feature a rollover fingertip design that eliminates jammed seams under your fingernails.
7. Beretta Mesh Half Finger Shooting Gloves
The Beretta Half Finger Shooting gloves are designed for shooters that know the benefits of gloves but still want to maintain the sensitivity of an uncovered trigger finger. These gloves are 100% polyester and offer a mesh back for improved air circulation.
They also offer an easy, pull-on design, which means you don't have to worry about securing Velcro or any other straps. These half-finger shooting gloves feature a textured palm for better grip and are designed to provide maximum comfort and sensitivity.
8. TitanOPS Full Finger Shooting Gloves
These shooting gloves are designed to perform on leisure hunts, in tactical situations, and even to keep your hands warm in cold hiking weather. They offer all-terrain versatility and a unique combination of materials that keep your hands warm while also breathing when you sweat. They are engineered with a combination of microfiber, leather, lycra, and nylon.
The TitanOPS Full Finger Shooting Gloves shield your knuckles to prevent cuts and other injuries. They also function well with a reinforced palm and an adjustable wrist strap. These gloves are bacteria-resistant, odor-free, and machine washable, which makes them an excellent long-term solution to your current shooting glove "dilemma."
9. Seibertron S.O.L.A.G. Tactical Gloves
Think it would be cool to feel like a Transformer on your next hunt? Well, these gloves at least sound like one! The Seibertron S.O.L.A.G. tactical gloves are made of synthetic leather with a polyurethane finish. They include EVA foam (3) over the knuckle area for an added layer of protection.
These shooting gloves are durable and also more lightweight than a lot of competing shooting gloves you'll find on the market. They are machine washable and weigh a mere 0.14 ounces. Furthermore, these gloves are available in a wide variety of sizes, which makes it easier to find the right fit according to your unique palm circumference.
10. Hatch NS430 Specialist All-Weather Shooting Gloves
These Hatch All-Weather Shooting Gloves are ideal for all-day hunts, as they provide superior comfort and breathability. They offer Synsi-feel synthetic leather palms with Extreme-Grip reinforcements on the palms and fingertips to give you added traction in key areas.
If you're looking for gloves that'll perform in colder weather, the Hatch Shooting gloves feature neoprene construction, which is the same material used to make wetsuits. This construction helps to ensure a snug fit while also making these gloves more weather-resistant. That said, they also retain their breathability so that they keep your hands cool in milder weather.
—
Buyer's Guide
Now that you've got 10 awesome shooting gloves to choose from, let's talk about how to make the right choice for you. Choosing the right shooting gloves depends on a number of factors, but the most important is your intended use. Also, here is another list of shooting gloves as well, in case you're looking for a different perspective.
For example, bow hunters are going to need different shooting gloves than rifle hunters. Military and law enforcement personnel obviously have different requirements than casual hunters. In this Buyer's Guide, we're going to go over four questions you should ask yourself when deciding whether or not to purchase a specific pair of shooting gloves.
Are They Going to Hold Up?
Durability is arguably the #1 factor to consider when choosing shooting gloves. You want to make sure that the choice you make is going to last for years to come. If you plan to use your gloves very frequently, they're obviously going to be subject to a great deal of wear and tear. The first thing to look at when considering durability is the primary material used in the glove's construction.
You'll find gloves made of a variety of leathers, synthetic leather, neoprene, polyester, and a host of other materials. Some leather gloves are also coated with a polyurethane finish, which does improve their longevity (in most cases). Others intentionally construct their gloves with thinner material so that they breathe better.
The ideal pair of shooting gloves should be able to withstand tough environments and extreme weather. They should have a thick palm so that the most sensitive part of your hands is protected. And finally, you generally won't go wrong with shooting gloves made of deerskin leather, neoprene, thermal warm grip, or HPPE (4).
Are They Going to Feel Good?
After you narrow down your list to gloves that you feel are going to last, it's time to consider whether or not they're actually going to feel good on your hands. If you're using them for hunting, you'll probably be wearing them for at least four or five hours at a time. If your intention is to have them for tactical use, there's a good chance this timeframe will be a lot longer. So, you're going to want to choose gloves that are also comfortable.
Now, the primary material that makes a glove comfortable (or not) is the material it's made of. Thankfully, leather is an incredibly comfortable material and most of the best shooting gloves use either genuine leather or a comfortable synthetic variety.
In addition to making sure that the material your gloves are made of won't irritate your skin, you also want to ensure that they offer a reasonable degree of breathability. If your hands are always hot and sweaty when you're wearing your gloves, you're probably not going to feel too comfortable in them.
Finally, you should avoid shooting gloves that are overly bulky. When you're lugging around a bunch of other gear on a hunt, backpacking trip, or tactical mission, you don't want gloves that weigh you down even further. Make sure the gloves you choose are also lightweight so that you're not exhausted by the time to pick your spot and stop to target your desired game. 
Are They Going to Make Life Easier?
Whether you're hunting or making quick decisions in a tactical situation, timing is everything. The last thing you want to be doing in these scenarios is fidgeting with your shooting gloves. You want them to fit snugly and can be adjusted quickly. If your gloves take more than a minute to put on, every second after that is a second wasted.
You want to look for gloves that are easy to use and require little effort to maintain. Cuffs and straps are great features that help hold your gloves on without requiring a bunch of extra effort to secure them in place. They make your experience getting your gloves on and off hassle-free so that you can concentrate on the important tasks in front of you.
Additionally, you want to make sure the gloves you choose are functional. This means you can perform all the necessary tasks you would normally perform with bare hands. Ideally, your gloves will allow you to perform those tasks as quickly (or more quickly) than you could perform them without gloves. Avoid gloves that cause you to fumble with loading your firearm, picking up shells, pulling the trigger, and performing other actions that need to be done seamlessly.
Are They Going to Fit?
Hand sizes vary greatly from individual to individual. Because of that, you should certainly avoid any shooting gloves that claim to be "one-size-fits-all." The best shooting gloves come in a variety of sizes and the appropriate sizing chart will help you determine which size is right for you.
Take the time to make sure the gloves you order are going to fit. Gloves that are too small can pinch your hands or cut off circulation, which will affect your performance. Gloves that are too large are likely to slip and slide around, which will also cause unnecessary fumbling and readjusting to try to tighten them down.
Gloves that are too large will also cause your hands to get colder in low temperatures. The additional air space around your hand means more opportunity for cold air to creep in. In these scenarios, it's also important to pay attention to cuff size. In colder environments, a longer cuff length is helpful because it gives you the ability to tuck your sleeves into the gloves.
When choosing the size of shooting gloves, pay close attention to the recommendations from the specific manufacturer of the glove you're interested in. Different brands size their gloves differently, and it never hurts to double down on research to make sure you're getting the right size.
Frequently Asked Questions
Your goal when searching for shooting gloves should be to find a pair that fit comfortably and function for your specific needs. Additionally, it's important to find a glove that's going to improve your shooting performance. There's no sense in adding shooting gloves to your arsenal if they make you a worse shooter!
In this Frequently Asked Questions section, we're going to address several major concerns about the function, fit, and maintenance of shooting gloves. If you have any additional questions that aren't addressed here, feel free to leave a comment below!
What is the difference between leather and synthetic leather?
To the naked eye, it can be hard to notice the difference. Advancements in synthetic leathers have made them comparable to their "genuine" counterparts. The important difference is that genuine leather comes from animal hides, such as cattle, deer, buffalo, goat, or oxen. In comparison, synthetic leather is usually made from a plastic base, which is then treated with a substance like polyurethane (wax and dye are often used as well) to create a similar color texture to genuine leather.
Synthetic leather tends to be more cost effective to produce, which can make gloves using them cheaper for the consumer. Some enthusiasts insist that it's impossible to duplicate the feel and durability of genuine leather using a plastic base. But this is precisely the goal that synthetic leather producers are trying to achieve.
Can you tell me more about the benefits of using neoprene in shooting gloves?
Neoprene is the same material used to make wetsuits. It is a synthetic polymer that resembles rubber. It is resistant to oil, heat, and weathering. These qualities showcase the primary benefits of including neoprene in shooting gloves. In combination with synthetic leather, gloves that use neoprene keep your hands warmer when they get wet and are more resistant to extreme weather.
What is the best way to wash my shooting gloves?
Fortunately, many of the shooting gloves we mentioned above are machine washable. When doing so, you should always be careful to follow the specific washing instructions set forth by the manufacturer on the glove's label.
If your gloves aren't machine washable (or you don't have access to a washing machine), the best way to wash synthetic leather shooting gloves is in the sink. Use cold water and mild laundry detergent or dishwashing soap to thoroughly clean the dirt and debris from your gloves. Avoid bleach or solvents, as they can cause discoloration.
Once you're satisfied that your gloves are clean, air-dry them to prevent the material from shrinking. This will maintain proper sizing and guarantee a snug fit. Never machine dry with heat or expose your gloves to a heat source other than indirect sunlight.
For gloves made of leather from animal hides, you'll want to use oil-based saddle soap to clean them. This soap will help you remove exterior stains and restore moisture to the leather. Use as little water as possible with the soap so that it does the majority of the work. If you need a deeper clean, you can use a shoe brush for added elbow grease.
Just like with synthetic leather gloves, avoid using bleach or solvents and air-dry your gloves to maintain sizing and prevent the material from shrinking. Never machine dry with heat or expose leather gloves made from animal hides to a heat source other than indirect sunlight. 
Is there a way to add a layer of waterproofing to shooting gloves?
Yes! One of the best products for treating leather gloves is Nikwax Waterproofing Wax for Leather (5). You can apply this wax to clean gloves wet or dry in order to improve their ability to repel water. This product is designed to maintain your glove's breathability as well. Proper waterproofing can significantly improve the longevity of your shooting gloves.
How can I find my glove size?
The appropriate glove size for your hand will vary depending on the specific manufacturer of the gloves you're interested in. However, the primary measurements you'll need to know to find the right glove size are your palm circumference and hand length. Using a measuring tape, wrap around the circumference of your palm between your thumb and forefinger. To find your hand length, measure from the tip of your middle finger to the base of your hand.
When taking hand measurements, always use your dominant hand to determine the right size of gloves. While both measurements are helpful, make sure that you use the larger of the two to make sure you choose the correct size glove (6).
Summary
The right pair of shooting gloves can significantly improve your hunting and/or tactical performance. Perhaps more importantly, they'll keep your hands comfortable and protected in a variety of harsh environments. We hope you've enjoyed this summary of the best shooting gloves of 2020 and we wish you the best of luck in your selection process!